Overview
Gibasa is a plain 'Rcpp' wrapper of 'MeCab', a morphological analyzer for CJK text.
Part-of-speech tagging with morphological analyzers is useful for processing CJK text data. This is because most words in CJK text are not separated by whitespaces and tokenizers::tokenize_words may split them into wrong tokens.
The main goal of gibasa package is to provide an alternative to tidytext::unnest_tokens for CJK text data. For this goal, gibasa provides three main functions: gibasa::tokenize, gibasa::prettify, and gibasa::pack.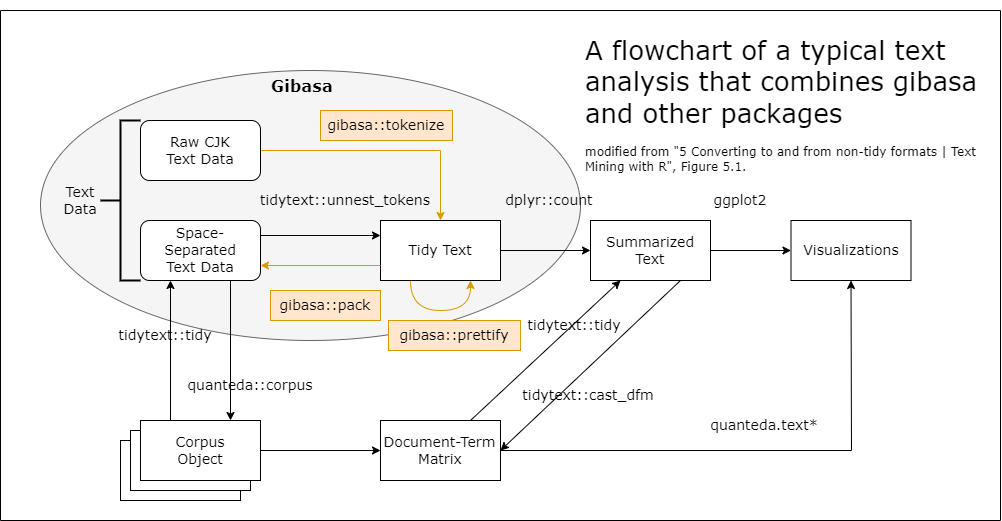 gibasa::tokenize takes a TIF-compliant data.frame of corpus, returning tokens as format that known as 'tidy text data', so that users can replace tidytext::unnest_tokens with it for tokenizing CJK text.
gibasa::prettify turns tagged features into columns.
gibasa::pack takes a 'tidy text data', typically returning space-separated corpus.
Installation
You can install binary package via CRAN or r-universe.



# Install gibasa from r-universe repository


install.packages

(

"gibasa"

, repos 

=

 c

(

"https://paithiov909.r-universe.dev"

, 

"https://cloud.r-project.org"

)

)





# Or build from source package


Sys.setenv

(

MECAB_DEFAULT_RC 

=

 

"/fullpath/to/your/mecabrc"

)

 

# if necessary




remotes

::

install_github

(

"paithiov909/gibasa"

)
To use gibasa package requires the MeCab library and its dictionary installed and available.
In case using Linux or OSX, you can install them with their package managers, or build and install from the source by yourself.
In case using Windows, use installer built for 32bit or built for 64bit. Note that gibasa requires a UTF-8 dictionary, not a Shift-JIS one.
As of v0.9.4 above, gibasa looks at the file specified by the environment variable MECABRC or the file located at ~/.mecabrc. If the MeCab dictionary is in a different location than the default, create a mecabrc file and specify where the dictionary is located.